Study is highlighting its efficiency in the reduction of cellulite by oral route
Avignon (France) – On the occasion of the Supply Side west 2015 event, BIONOV will introduce its latest developments and innovations. A new clinical study on its melon juice concentrate SOD B Dimpless® has now been accepted for publication in the journal Phytothérapie.  This study shows that SOD B Dimpless® significantly reduces cellulite on thighs after 28 days of oral supplementation on 21 women. The mechanism of action involves both fibrosis resorption and lipolysis stimulation, allowing to correct the skin dimpling aspect.
Clinically proven efficacy
The efficiency of SOD B Dimpless® has been shown in a double-blind, placebo-controlled clinical study accepted for publication in Phytothérapie. This clinical study, performed on 41 women under dermatological control, demonstrates a significant visual reduction of cellulite on thighs by -9.5% after only 28 days of supplementation at 40 mg/day, i.e. 480 IU SOD/day. SOD B Dimpless® clinical efficiency is maintained and even emphasized after 56 days of supplementation with a significant reduction of cellulite on thighs by -11.3%.
An innovative targeted action on cellulite
Cellulite is a major beauty issue affecting more than 90 million women in USA and 1.7 billion worldwide. SOD B Dimpless® is ideally suited to reduce cellulite thanks to unique an efficient dual action. Highly concentrated in SuperOxide Dismutase (SOD), a key antioxidant enzyme largely studied for its action against fibrosis in more than 130 publications, SOD B Dimpless® fights both the fibrosis state of the connective tissue, and the fat cells hypertrophy, identified as the two main cause of cellulite development. This innovative way of action guarantees a significant quick and lasting reduction of the orange-peel aspect.
In & Out efficiency
Produced by Bionov (France), SOD B Dimpless® is a dried melon juice concentrate highly guaranteed in SuperOxide Dismutase (SOD, 12,000 IU/g). SOD is a primary antioxidant enzyme which represents the body's first line of defense against free radical damages. Protected from gastric degradation thanks to a patented microencapsulation technology, SOD B Dimpless is adapted to the formulation of both nutritional and cosmetic applications:
Nutrition: capsules, softgels, tablets, gums, instant drinks
Cosmetic: creams, lotions, ointments
SOD B Dimpless® is produced by: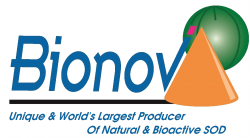 Distributed in the USA by: