CARLSBAD, CA – Compound Solutions, Inc., exclusive global distributor of patent-pending TeaCrine®, today announced the results of a newly published clinical study, "A Two-Part Approach to Examine the Effects of Theacrine (TeaCrine®) Supplementation on Oxygen Consumption, Hemodynamic Responses, and Subjective Measures of Cognitive and Psychometric Parameters." The study was published in the peer-reviewed Journal of Dietary Supplements. Preliminary data from this 2-part human clinical trial was initially presented at the Annual Conference of the International Society of Sports Nutrition in 2014.
The study outcomes highlight TeaCrine®'s unique experiential delivery that sets it apart from other energy and focus ingredient options. This branded blockbuster ingredient differentiates itself from several competitors due to its potent effects on decreasing ratings of anxiety and irritability coupled with its significant increases in energy, focus and concentration. These benefits are particularly noteworthy considering TeaCrine® does not cause increases in heart rate or blood pressure.
"We are excited that the findings reported in the Journal of Dietary Supplements study underscore what we've always known about TeaCrine®'s incredible benefits," said Matthew Titlow, CEO of Compound Solutions. "We are dedicated to pushing the forefront of TeaCrine®'s applications to deliver maximum human cognitive and physical performance through further scientific exploration."
One of the unique aspects of this ingredient is its foundation in research. For the past several years, TeaCrine® has invested in a clinical R&D fund to continually bolster and elevate the scientific evidence base underpinning the ingredient. In addition to the two seminal human studies published recently, there are two more studies underway. The first is a pharmacokinetic investigation with 50 subjects to assess the absorption, metabolism and excretion of TeaCrine® in blood. This study will also provide further substantiation of the findings on energy, focus, mood and cognitive measures observed in the Journal of Dietary Supplements study just published.
The second study will utilize more than 30 elite college athletes to examine how TeaCrine® alone, or in combination with caffeine, affects exercise and cognitive performance such as work capacity, stamina, reaction time, attention, focus and decision-making at rest and under conditions of fatigue. Both of these studies will solidify and broaden the understanding of TeaCrine® in the sports nutrition category, and provide important crossover applications in cognitive performance, and work productivity to maximize overall human potential.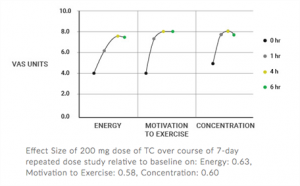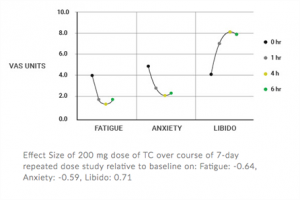 About Compound Solutions, Inc.
Compound Solutions, Inc. is the go-to company representing and distributing unique, patented nutraceutical ingredients for the sports nutrition, functional food and beverage and nutritional supplement markets. Compound Solutions is the exclusive global supplier of TeaCrine®.