The Nutritional Cookie Is Packed With Protein and the Digestive and Immune Support of GanedenBC30
CLEVELAND – OH – Pro2Bites are bite sized functional, probiotic cookies that contain whole grain prebiotics and a daily dose of GanedenBC30 for digestive and immune support. Pro2Bites cookies deliver probiotics to your body safely and deliciously! Pro2Bites are non-GMO and chock full of protein, fiber and omega 3's and 6's. Pro2Bites™ are fully functional cookies that offer the performance you crave in the indulgent cookie you deserve.
"We had been looking at Ganeden for a while and based on the growth of the probiotic market we identified an opportunity to work with Ganeden to include their amazing probiotic GanedenBC30 in our nutritional cookies," said Lisa Harris, Founder of Morning Sunshine Kitchen. "We increased our product's functionality and took a 'bite' out of the market. Ganeden made it very easy for us because GanedenBC30 seamlessly worked with our formula."
Pro2Bites are now available for purchase online and in over 90 stores across the United States; and come in four delicious flavors: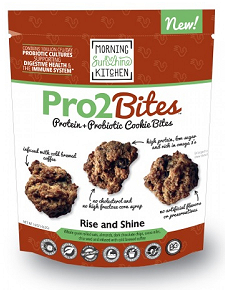 Dark Chocolate Flax- Nutritious bites of oats, tart cranberries, almonds, sunflower seeds, dark chocolate chips & omega 3 rich golden flax seed.
Rise and Shine- Whole grain rolled oats, almonds, dark chocolate chips, cacao nibs, chia seed and infused with cold brewed coffee
5 Spice Ginger Cashew- A warmly spiced whole grain cookie with crystallized ginger and cashews
Peanut Butter Berry- Nutritious bites of oats, dried cherries, white chocolate chips, peanuts and peanut butter sweetened with wildflower honey
About Ganeden
Ganeden is at the forefront of probiotic research and product development with an extensive library of published studies and more than 100 patents for probiotic technologies in the food, beverage, animal health, sports nutrition and personal care ingredients markets. Ganeden is best known for GanedenBC30®(Bacillus coagulans GBI-30, 6086), its patented, FDA GRAS, non-GMO, highly stable probiotic ingredient. Ganeden's newest ingredient, Bonicel, is the first science-backed, probiotic-derived, personal care ingredient shown to dramatically reduce signs of aging. For more information about Ganeden and licensing opportunities visit GanedenProbiotics.com.
About Morning Sunshine Kitchen
Morning Sunshine Kitchen was founded in New York in 2010 by Lisa Harris. Originally a small company offering delicious, nutritional cookies, Lisa recognized an opportunity to expand their product line by adding probiotics to their cookie line. The result… Pro2Bites, a nutritional cookie with a full day's dose of Probiotics. The new line provided value to Lisa's customer base, an increase in functionality, and eased their expansion into national chain stores. Morning Sunshine Kitchen is now a trusted, global brand providing wholesome foods to mindful eaters. For more information, please visit MorningSunshineKitchen.com.
About GanedenBC30
Introducing GanedenBC30® (Bacillus coagulans GBI-30, 6086), Ganeden's patented probiotic ingredient that can be found in more than 100 leading food, beverage, sports nutrition and companion animal products around the world. Unlike most other probiotic strains, GanedenBC30 is a spore-former which makes it highly stable and allows it to remain viable through most manufacturing processes, three years of shelf life and the low pH of stomach acid. The efficacy of GanedenBC30 is backed by over 20 published studies showing digestive and immune support and GanedenBC30 has an exceptional safety record with FDA GRAS status from the United States FDA. It can be formulated into virtually any food, beverage or companion animal product that is baked, boiled, frozen or squeezed…. including all hot or refrigerated beverages! For more information, please visit GanedenBC30.com.