Gnosis has just launched a new YouTube channel (Gnosis-bio) to share knowledge and scientific backing about its ingredients, unlock not very well-known and often critical aspects of its ingredients and provide new highlights and advancements in the several fields of application of health and wellbeing.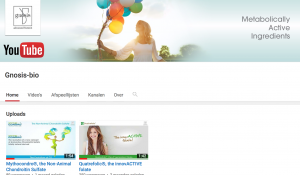 The new Gnosis marketing tool would like to represent a way for the visitor to open a short-lived window of time where being flashed by pictures and brief concepts to eventually deepen later through scientific lecture or visiting our web-sites. Videos of speeches led by scientists, lectures and conferences held in the most important nutritional events in the world,  let Gnosis' YouTube visitors to discover, in quick and informal way, how a right nutrition may contribute to human health, giving them counsels and recommendations to manage their wellbeing better than ever before.
In the recent years nutraceutical industry has evolved greatly in term of market increase, quality requirements and awareness of consumers with the dietary supplement use and the consumer confidence that are on the rise globally.
According to the most recent annual survey conducted by Ipsos Public Affairs on behalf of the Council for Responsible Nutrition (CRN), published in October 2016, seventy-one percent of U.S. adults—more than 170 million—take dietary supplements  with an increase in usage among adults between the ages 18–34 and with the oldest population surveyed (adults aged 55+) that maintains the highest percentage of supplement use at 74 percent. Moreover, 85 percent of U.S. adults have overall confidence in the safety, quality and effectiveness of dietary supplements. Among supplement users it's even higher, with 96 percent indicating confidence.
All at once, the consumers take a more active role in managing their health and show a real hunger for knowledge of health benefits and scientific substantiation of finished products and/or active ingredients. They can be defined as proactive healthcare consumers, with a remarkable aptitude to interact in social media channels, and the tendency to share their experiences and opinions. Social networks play an important role in consumers decision making, effectively facilitate their education and create a direct connection for responsible consumption toward greater transparency from ingredients producers.
Gnosis-bio YouTube channel starts with Quatrefolic® and Mythocondro® short videos, two products developed to overcome and change two consolidated and mature markets – such as folate and chondroitin sulfate – with the only target to optimize benefits and reduce safety concerns and less bioavailability.
The Quatrefolic® video: Watch the video here

The Mythocondro® video: Watch the video here