Made From Organic Broccoli, Supplement Increases the Body's Defenses*
New York City, NY  – Nature's Answer has found a way to get broccoli into peoples' diets, even if they don't like the vegetable steamed, boiled, or baked.
Brocco-Glutathione™ is made with organic broccoli sprouts, which have been show to supply the body with up to 100 times more glucoraphanin than mature broccoli. It's a precursor to sulforaphane, which activates the body's cells to increase glutathione levels.*
That's great news for Brocco-Glutathione users since each capsule also contains 250 mg of Setria® Glutathione, a brand of glutathione – called nature's "master antioxidant" – that replenishes the body's stores while also protecting cells from oxidative stress and harmful toxins.*
As people grow older, the body's natural antioxidant stores are depleted and overall health and wellness can suffer. Setria® Glutathione has been shown to decrease oxidative stress, increase natural killer cells, and significantly boost glutathione levels.*
For more information about Brocco-Glutathione™, visit http://www.naturesanswer.com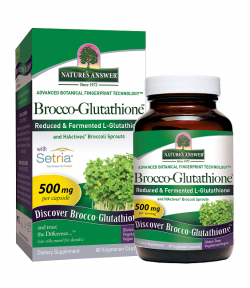 About Nature's Answer, Inc.
Nature's Answer® produces the finest liquid herbal extracts available. We are uniquely able to guarantee the quality of all of our liquid herbal extracts as we both manufacture and package all of the holistic remedies that we sell. In order to explain how the liquid herbal extracts we sell can be so superior in quality to others currently available, we would like to tell you a little bit more about our company. For more information, visit http://www.naturesanswer.com.
About Setria Glutathione
Setria® Glutathione, manufactured by Kyowa Hakko Bio is a clinically studied form of glutathione that, when taken orally1, has been shown to replenish the body's reserves, which may be depleted as a result of poor lifestyle choices, stress or natural aging. Called the "master antioxidant," glutathione helps protect cells in the body from the damaging effects of oxidative stress and toxins. Setria glutathione is manufactured through a patented fermentation and patent pending for increasing natural killer (NK) cell activity, is pure, vegetarian and allergen-free. For more information about Setria glutathione, visit http://www.setriaglutathione.com/
References
1 Richie JP Jr, Nichenametla S, Neidig W, Calcagnotto A, Haley JS, Schell TD, Muscat JE. Randomized controlled trial of oral glutathione supplementation on body stores of glutathione. European Journal of Nutrition. May 2014: 1436-6207. doi: 10.1007/s00394-014-0706-z
*These statements have not been evaluated by the Food and Drug Administration. This product is not intended to diagnose, treat, cure, or prevent any disease.
** Setria® is a registered trademark of Kyowa Hakko Bio Co., Ltd.
About Kyowa Hakko USA
Kyowa Hakko USA is the North American sales office for Kyowa Hakko Bio Co. Ltd. (Kyowa Hakko Bio), an international health ingredients manufacturer and world leader in the development, manufacturing and marketing of pharmaceuticals, nutraceuticals and food products. Kyowa Hakko Bio is the maker of branded ingredients including Cognizin® Citicoline, Lumistor® L-Hydroxyproline, Pantesin® Pantethine, Setria® Glutathione, as well as Sustamine® L-Alanyl-L-Glutamine. For more information visit http://www.kyowa-usa.com.