Dietary Supplement May Support Memory and Focus Improvement*
New York City, NY August 18, 2015 – Medispec, the marketer and distributor of pharmaceutical and health supplement products in Malaysia, has released Vitamode® CogniPro Tablets that leverage Cognizin® Citicoline to help support cognitive function.*
Vitamode® CogniPro contains 250mg of Cognizin® Citicoline to support focus, attention, memory, and protection from free radical damage.* Citicoline is a compound that promotes the production of phosphatidylcholine (phospholipids), important for brain function.*
Phospholipids make up approximately 30% of brain tissue, aid neural communication and provide essential protection for neurons. Clinical research has shown that citicoline has multiple applications and is able to improve various aspects of the brain's physiological activity.*
Cognizin® Citicoline is a branded form of citicoline, an essential substance for brain health. Citicoline works to enhance communication between neurons, maintain normal levels of acetylcholine, protect neural structures, and enhance health brain activity and energy.*
The Cognipro Tablets is now available in selected clinics and pharmacies in Malaysia.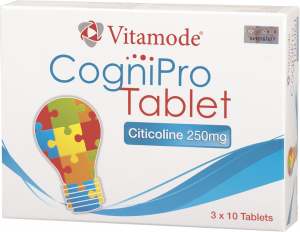 For more information about Vitamode® CogniPro Tablets, visit
http://www.medispec.com.my/tour-view/vitamode-cognipro-tablet/ .
About Vitamode®
Vitamode® is a house brand owned by Medispec (M) Sdn Bhd, a marketer and distributor of pharmaceutical and health supplement products with a track record of over 30 years in Malaysia. Vitamode® range of health supplements aim to promote optimal health with high quality, effective, affordable and "cutting-edge" formulations, which are based on sound scientific research data. We choose only top-grade ingredients from the best raw material suppliers across the globe to ensure we deliver the best to our customers. We take pride in providing supplement solutions to empower people to take control of their health.
About Citicoline (Cognizin®)
Cognizin is a branded form of Citicoline, a natural substance found in every cell of the body and especially vital to brain health.* Citicoline is broken down during intestinal absorption and, after passing through the blood/brain barrier, is reconstituted in the brain as citicoline.* Citicoline is a water-soluble compound that supplies precursors for the synthesis of phospholipids, including phosphatidyl-choline, a major constituent of brain tissue*; helps maintain normal levels of acetylcholine, a chemical that regulates memory and cognitive function*; enhances communication between neurons*; supports visual function*; protects neural structures from free radical damage*; enhances metabolism and healthy brain activity*; and helps sustain healthy cellular mitochondria for sustained energy*. Cognizin is also highly stable, GRAS, ultra-pure and allergen-free.
https://www.youtube.com/watch?v=ckzXjbuIHPI
About Kyowa Hakko Singapore
 Kyowa Hakko Singapore is the Southeast and South Asian office for Kyowa Hakko Bio Co., Ltd., an international health ingredients manufacturer and world leader in the development, manufacturing and marketing of pharmaceuticals, nutraceuticals and food products. Kyowa Hakko Bio is the maker of branded ingredients including Cognizin® Citicoline, Lumistor® L-Hydroxyproline, Pantesin® Pantethine, Setria® Glutathione, as well as Sustamine® L-Alanyl-L-Glutamine. For more information, email at singapore@kyowa-asia.com.