Dietary Supplement May Improve Overall Brain Function*
New York City – XPI Supplements has created Alpha-Focus with Cognizin® Citicoline and a variety of other ingredients that may help improve brain function.*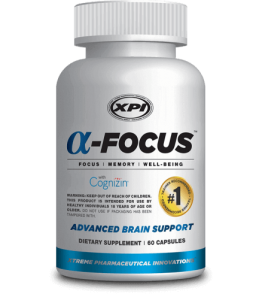 Alpha-Focus leverages Cognizin® with ingredients such as Vinpocetine, which increases blood flow to the brain, and Huperzine-A, which prevents break down of acetylcholine, a compound critical for learning, memory, and concentration.*
Cognizin® Citicoline is a compound that promotes the production of phosphatidylcholine, important for brain function. Clinical research has shown that citicoline has multiple applications and is able to improve various aspects of the brain's physiological activity.*
For more information on XPI Supplements Alpha-Focus, visit http://www.xpisupplements.com/products/alpha-focus/.
About XPI Supplements
XPI Supplements is a sports and health supplement company that provides a wide range of products designed optimize workout performance and results, as well as enhance overall well-being. For more information, visit www.xpisupplements.com.
About Citicoline (Cognizin®)
Cognizin is a branded form of Citicoline, a natural substance found in every cell of the body and especially vital to brain health.* Citicoline is broken down during intestinal absorption and, after passing through the blood/brain barrier, is reconstituted in the brain as citicoline.* Citicoline is a water-soluble compound that supplies precursors for the synthesis of phospholipids, including phosphatidyl-choline, a major constituent of brain tissue*; helps maintain normal levels of acetylcholine, a chemical that regulates memory and cognitive function*; enhances communication between neurons*; supports visual function*; protects neural structures from free radical damage*; enhances metabolism and healthy brain activity*; and helps sustain healthy cellular mitochondria for sustained energy*. Cognizin is also highly stable, GRAS, ultra-pure and allergen-free.
https://www.youtube.com/watch?v=ckzXjbuIHPI
About KYOWA HAKKO USA, INC.:
KYOWA HAKKO USA, INC. is the North American sales office for KYOWA HAKKO BIO CO., LTD., an international health ingredients manufacturer and world leader in the development, manufacturing and marketing of pharmaceuticals, nutraceuticals and food products. Kyowa is the maker of branded ingredients including Cognizin® Citicoline, Pantesin® Pantethine, Setria® Glutathione, as well as Sustamine® L-Alanyl-L-Glutamine. For more information, visit www.kyowa-usa.com.