Get Ready for Increased Concentration and Optimal Focus*
New York City,  – Cerebral Success has combined the power of Cognizin® Citicoline with other brain health ingredients to create SmartX™ for increased mental energy and focus.*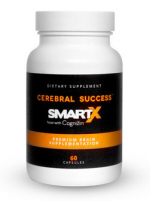 SmartX™ – which received financial backing from the TV show Shark Tank – helps increase mental energy and overall alertness while supporting other brain functions as well. Cognizin® Citicoline is a major part of the detailed chemical composition of SmartX™ allows it to simultaneously influence four areas of brain power: focus, memory, mental energy, and overall brain health.*
It is now easier to obtain SmartX as they have expanded their distribution to GNC stores, Amazon.com and eSupplements.com, luckyvitamin.com and more are lined up.
Cognizin® Citicoline is a branded form of citicoline, an essential substance for brain health. It works to enhance communication between neurons, maintain normal levels of acetylcholine, protect neural structures, and enhance health brain activity and energy.  For more information about Cerebral Success SmartX™, visit www.cerebralsuccess.com.
About Cerebral Success
Cerebral Success is a brain-health company based out of Provo, Utah, that has developed a safe brain supplement that supports focus, memory, mental energy, and overall brain health.
Trevor Hiltbrand, Cerebral Success founder/CEO has steadily gained attention from students and individuals in the work force looking for a healthy way to enhance their focus, memory and health. In April 2014 Cerebral Success was featured on ABC's Shark Tank, and was successful in winning an investment from Barbara Corcoran. Through the last three years Cerebral Success has perfected and modified its featured product to develop the best brain supplement yet: SmartX.
About Cognizin® Citicoline
Cognizin® is a branded form of Citicoline, a natural substance found in every cell of the body and especially vital to brain health.* Citicoline is broken down during intestinal absorption and, after passing through the blood/brain barrier, is reconstituted in the brain as citicoline.* Citicoline is a water-soluble compound that supplies precursors for the synthesis of phospholipids, including phosphatidyl-choline, a major constituent of brain tissue*; helps maintain normal levels of acetylcholine, a chemical that regulates memory and cognitive function*; enhances communication between neurons*; supports visual function*; protects neural structures from free radical damage*; enhances metabolism and healthy brain activity*; and helps sustain healthy cellular mitochondria for sustained energy*. Cognizin® is also highly stable, GRAS, ultra-pure and allergen-free. For more information on Cognizin ®, visit www.cognizin.com.
*These statements have not been evaluated by the Food and Drug Administration. This product is not intended to diagnose, treat, cure, or prevent any disease.
About Kyowa Hakko USA
Kyowa Hakko USA is the North American sales office for Kyowa Hakko Bio Co. Ltd. (Kyowa Hakko Bio), an international health ingredients manufacturer and world leader in the development, manufacturing and marketing of pharmaceuticals, nutraceuticals and food products. Kyowa Hakko Bio is the maker of branded ingredients including Cognizin® Citicoline, Lumistor® L-Hydroxyproline, Pantesin® Pantethine, Setria® Glutathione, as well as Sustamine® L-Alanyl-L-Glutamine. For more information visit www.kyowa-usa.com.