Vitamin B5 Derivative Combined with Artichoke for Cholesterol Management*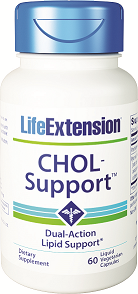 New York City,  – Life Extension® is offering a new cholesterol-management supplement called Chol-Support™ that utilizes Pantesin® Pantethine and an artichoke extract.
Chol-Support™ contains a 300 mg dose of Pantesin® Pantethine – a branded form of a Vitamin B5 derivative that has been shown to promote already healthy levels of LDL and non-HDL cholesterol levels while increasing valuable CoQ10 stores, as published in a study published in Vascular Health and Risk Management.* It's combined with 250mg of Pycrinil® artichoke extract from the plant's leaves.
For more information about the study, visit:
http://www.dovepress.com/pantethine-a-derivative-of-vitamin-b5-favorably-alters-total-ldl-and-n-peer-reviewed-article-VHRM.
About Life Extension
For more than 35 years, Life Extension® has been a pioneer in funding and reporting the latest anti-aging research and integrative health therapies while offering superior-quality dietary supplements to consumers.
Life Extension has a long history of offering prescient health guidance to American consumers, in many cases years ahead of the mainstream medical establishment. For example, in 1983, Life Extension recognized the value of daily low-dose aspirin to reduce the risk of vascular problems, years before the practice enjoyed widespread acceptance. For more information, visit www.lifeextension.com.
About Pantesin® Pantethine
Pantesin® is a high-quality, pharmaceutical grade branded form of Pantethine, a derivative of vitamin B-5. Supplied worldwide by Daiichi Fine Chemical Co., Ltd, a subsidiary of Kyowa Hakko Bio Co. Ltd. (Kyowa Hakko Bio), and distributed by Kyowa Hakko U.S.A., the ingredient Pantesin® can be found in many dietary supplements designed to support heart health. Pantesin® has been well-researched for over 35 years, including human clinical studies in both Asian and North American countries, and has been shown to provide vital cardiovascular health benefits. For more information, visit www.pantesin.com.
*Pantesin® is a registered trademark of Daiichi Fine Chemical Co., Ltd.
About Kyowa Hakko USA
Kyowa Hakko USA is the North American sales office for Kyowa Hakko Bio, an international health ingredients manufacturer and world leader in the development, manufacturing and marketing of pharmaceuticals, nutraceuticals and food products. Kyowa Hakko Bio is the maker of branded ingredients including Cognizin® Citicoline, Pantesin® Pantethine, Setria® Glutathione, as well as Sustamine® L-Alanyl-L-Glutamine. For more information, visit http://www.kyowa-usa.com.