Mythocondro®  has a brand-new user friendly DEDICATED WEBSITE designed to provide all of the featured aspects of this pioneering vegetarian alternative of Chondroitin Sulfate.
Mythocondro® is the first Non-Animal Chondroitin Sulfate obtained through a patented fermentation-based manufacturing process. It warrants high purity, clear identity profile, batch-to-batch reproducibility, established safety, very low content of proteins and other macro(molecules) as well as an improved biological activity. Clinically tested,  it is suitable for vegetarians and  free from religious restrictions.
The website has an easy navigation and impresses with features bright colors and fresh structure allowing the readers to view the advancements and details that make Mythocondro® the only special Animal-free Chondroitin Sulfate.
"Although chondroitin sulfate is a recognized beneficial ingredients for joint health not all market players are enough aware about the issues related to the origin, the quality, the efficacy and the safety of animal sources available so far." – said Silvia Pisoni, Marketing Manager of Gnosis – . "Misplaced supply chain traceability and missed guidelines have adversely affected the global nutraceutical industry and undermined chondroitin sulfate popularity. Mythocondro®, the ground-breaking vegetarian alternative of CS, resolves any of the concerns of animal-derived CS because it is produced under strict quality standards with defined, clean and controlled origin."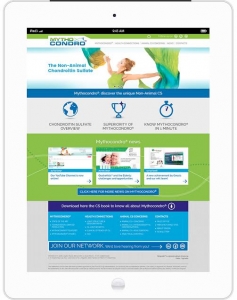 Mythocondro® brand-new website offers a 360-degree tours into in the world of chondroitin, with a user-friendly description of the black side aspects of animal-derived CS and the white side evolution of this Animal-free Chondroitin Sulfate, going deep inside specific aspects that characterize its bioavailability, efficacy and safety.
Direct options to share information across all major social networking site are available …you just have to join the evolution at  www.mythocondro.com!
For more information contact marketing@gnosis-bio.com