How to Compete in the Sports Nutrition Sector
Summary
Athletes and people with active lifestyles often experience respiratory tract symptoms (RTS), and many struggle with recurring upper respiratory tract infections (URTIs). The result is disrupted training schedules and poor physical performance. A strong immune defence is key to avoid performance setbacks caused by unwanted common bacterial and viral infections.
These consumers are well aware of the importance of a balanced diet, and put more than average effort into diet management to ensure that the body's nutritional demands are met. For a sports nutrition product to stand out from the crowd and catch the attention of this group, it must offer something extra – something of additional value.
The paper reviews the scientific literature on immune health and athletic performance, and makes the case for beta-1,3/1,6-glucan as a valuable immune health ingredient in sports nutrition products – for the consumer as well as for the manufacturer.
Download the White Paper here:
Nutramunity – White paper – Immune Health and Sports Nutrition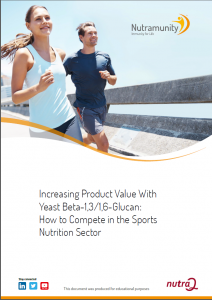 About Nutramunity™
Nutramunity™ Beta-Glucan (NBG®) is a versatile immune health ingredient suitable for foods, beverages and dietary supplements. Nutramunity™ may also be used as a cosmetic ingredient in personal care products. Nutramunity™ is a beta-1,3/1,6-glucan, a potent and safe immune-enhancing component isolated from baker's yeast (Saccharomyces cerevisiae) that helps support healthy immune function. Nutramunity™ is naturally-derived, non-GMO, kosher and halal-certified, allergen-free, GMP-produced, and EU Novel Food-authorized. Yeast beta-1,3/1,6-glucan is US FDA GRAS-recognized. Learn more at www.nutramunity.com.