Kyowa's Oxidized Glutathione May Help Lighten Skin by Regulating Melanin Production
Use in Topical Products Show Promise for Skin "Brightening" Effect*
New York City,  – A study of healthy adult women showed topical application of oxidized glutathione may regulate melanin production, resulting in "brightening" or "whitening" of the skin.
"Thirty healthy women, age 30 to 50, applied a lotion containing Kyowa's Oxidized Glutathione (GSSG) to one side of their face for 10 weeks. A placebo was applied to the other side. Researchers found that skin treated with the 2% KYOWA oxidized glutathione location had significant whitening over the placebo group," said Ryusuke Nakagiri, Senior Director of Strategic Science at Kyowa Hakko USA.
Kyowa's Oxidized Glutathione is aqueous stable, and does not break down in light and heat. GSSG is designed for use in personal care products, and is currently available in European and South American markets. It is backed by Kyowa Quality™, a standard that helps ensure the highest purity and quality of the company's long line of ingredients and products.
Numerous other studies already have shown the power of glutathione. The number of free radicals attacking the body's cells increase as people age. Antioxidants, such as glutathione, attack and destroy free radicals, helping to cleanse the body.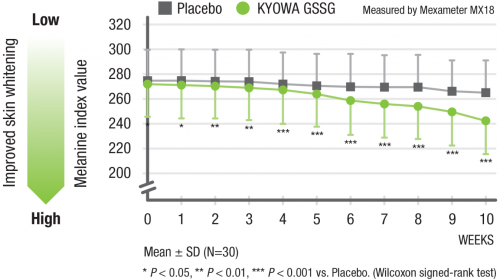 To view the entire study, visit:
http://www.dovepress.com/skin-whitening-and-skin-condition-improving-effects-of-topical-oxidize-peer-reviewed-article-CCID.
About Kyowa Hakko Oxidized Glutathione
Kyowa's Oxidized Glutathione is a clinically studied form of glutathione that, when used topcically1, has been shown to reduce aging effects caused by overexposure to ultraviolet radiation, mainly from the sun. Called the "master antioxidant," glutathione helps protect cells in the body from the damaging effects of oxidative stress and toxins. Kyowa's Oxidized Glutathione is manufactured through a patented fermentation process is preservative-free, allergen-free, and contains no artificial flavors or colors. An ingredient with application in the areas of topical skin care and cosmetics, Kyowa's Oxidized Glutathione carries the Kyowa Quality logo, ensuring the ingredient is backed by our commitment to the highest manufacturing standards.
*These statements have not been evaluated by the Food and Drug Administration. This product is not intended to diagnose, treat, cure, or prevent any disease.
References
1 Watanabe F, Hashizume E, Chan GP, Kamimura A. Skin-whitening and skin-condition-improving effects of topical oxidized glutathione: a double-blind and placebo-controlled clinical trial in healthy women. Clinical, Cosmetic and Investigational Dermatology 2014;7:267-274. doi:10.2147/CCID.S68424.
About Kyowa Hakko USA
Kyowa Hakko USA, INC. is the North American sales office for Kyowa Hakko Bio Co. Ltd., an international health ingredients manufacturer and world leader in the development, manufacturing and marketing of pharmaceuticals, nutraceuticals and food products. Kyowa is the maker of branded ingredients including Cognizin® Citicoline, Pantesin® Pantethine, Setria® Glutathione, as well as Sustamine® L-Alanyl-L-Glutamine. For more information, visit http://www.kyowa-usa.com.